Subscribe to Children's University Online
What is Children's University?
Children's University is an award scheme for children that encourages, tracks and celebrates their participation in learning beyond the classroom. Stamps are awarded for taking part in clubs, online activities, and other activities done alone, or with the family, at home and in the local area. Children can keep a log of everything they do, and each hour of participation takes them one step closer to their next certificate.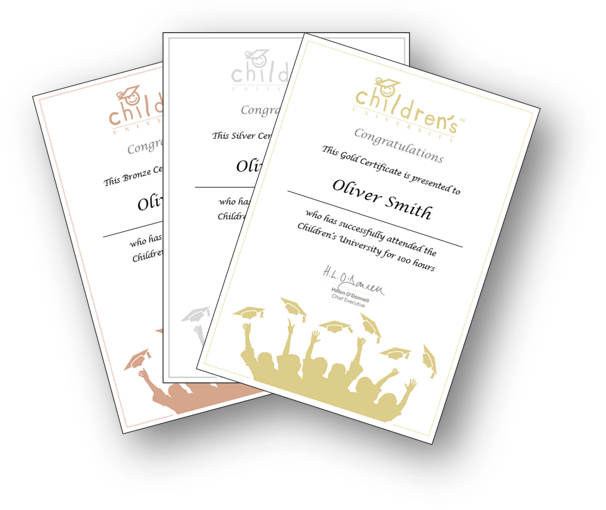 You can now subscribe online!
Children's University has been running in schools for over 15 years! For the first time ever, we can now offer access to our award-winning programme to all children through a new subscription model. Whether your child attends a school that's not part of our existing programme, or if you home-educate, this is for you.
What do subscribers get?
For just £3.50 / month, your child can:
create their own online Learning Log, keeping a visual record of all they do
collect digital print-at-home certificates
watch their skills and interests build
search through more than 6,000 quality assured activities
add records to their Learning Log for any other activity they do themselves
How does it work?
Start by setting up a Parent/Guardian account
Then create an account for your child and set up your payment method
You can then log out, and the new subscriber can log in themselves and get going!
Subscriptions are charged monthly but can be cancelled at any time. Parents can reset their child's password at any point. Help is available through an online help centre of FAQs.
Why is Children's University important for your child?
Formal education only counts for a small percentage of a child's time. The potential that's held in the time they have beyond the classroom or structured curriculum is huge. Using this time wisely and recognising all they do helps children learn, develop new skills, improve well-being, and allows them to explore new interests and passions. Evidence of the positive impact of Children's University can be found at childrensuniversity.co.uk/evidence
FAQs
Here are some of our most common questions answered. 
Our new subscription service is designed to cater for children and families that sit beyond the reach of our current network of schools. If your child already does Children's University through their school, they will not be able to subscribe online, and nor will they need to!
Unfortunately, our subscribers will not be able to attend graduation events. There are two ways for children to take part in Children's University; through their school or by signing up for an online subscription. Graduation ceremonies are managed and run by schools and our local partners, and are not accessible for those who do not attend a member school. You can, however, download your certificates and we encourage you to share these achievements with your teachers and family.
At present we're not in a position to sell passports to individual children or families. This is something we'll be exploring in the future, so do come back and check.
When children reach a new award level they will be notified that they have a new certificate on their dashboard. You can click 'Your Awards' on the top menu to view and download certificates. These are digital files. If you want a physical certificate, you can save and print these yourself.
Children's University Online is a platform run by the charity Children's University Trust. As a charity our aim is for Children's University Online to be accessible to all children and we do not want cost to be a barrier. If cost is a barrier for you, send an email to contactus@childrensuniversity.co.uk and we can discuss ways in which we can help.
Children's University is a charity (re. 1118315). 
Our vision is a world where every child has equal opportunity to unlock their full potential through learning beyond the classroom
Our mission is:
To inspire all children to love learning beyond the classroom
To remove barriers to learning beyond the classroom making it accessible to all
To engage children, their families and community in learning beyond the classroom, in and out of school, at home and online
As an organisation, we want to ensure that every child participating in Children's University feels:
that learning can be fun, aspirational, and lifelong
they have enjoyed a range of new learning experiences and are motivated to keep learning in different ways
they have grown in confidence and self-belief
they have a broader range of essential skills in line with the Skills Builder Framework
they are empowered to make positive choices about their future
they can better cope with the challenges that life throws at them
they are celebrated for their commitment to learning by their family, school and community
Children's University began in the early 1990s as a way to engage young pupils in subjects and opportunities that would otherwise not be available to them.  It was incredibly successful in schools in areas considered disadvantaged according to national indicators and the idea spread. In 2007, Children's University Trust was formed. Children's University Trust is now a national charity that supports, coordinates, advocates and fundraises for Children's University activity across the UK. 
Historically, schools have signed up to work with their local Children's University partner and children are then issued a Passport to Learning and a login for Children's University Online (CUO). Using these tools they collect stamps for participating in Children's University quality-assured activities beyond the classroom. Once significant stamps are accumulated, their achievements are marked with certificates. 
It has long been our aim to make Children's University accessible to all children, not just those who attend schools that are signed up to our programme. This new subscription model is our first step towards this and we thank you for getting involved!
If you're looking for help in using Children's University Online, you can access our Help Centre via your child's dashboard or by clicking here. If there's anything else you need, simply fill in the online feedback form above and someone will get back to you.